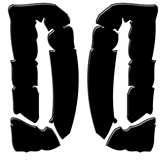 Welcome everyone to Dizzi Decalz 🙂 Please note: Our website is quite out of date at the moment…  However we are in the process of updating it to reflect all the new products, services, and content we now offer.  A short Summary of these are:
Stickers (Computer cut or printed)
Banners
A Frames
Posters
Business Cards
General Signage
Vehicle Wraps (colour change and commercial/fleet)
Laser etching/engraving/cutting
Automotive/Residential/Commercial Window Tinting
Trophies
Heat Transfers
and much more….
Our facebook page is currently our most up-to-date source of content until we roll out our new website.
So for the moment, please feel free to contact us, or request a quote, or if there are any generic stickers you like from our shop, you can still purchase them through the website.
Otherwise, www.facebook.com/dizzidecalz is our main point of contact.  We are also on instagram under @dizzidecalz if you wish to follow us there also.
Cheers
The Dizzi Decalz team!